Location
180B Northside Dr.
Rates
Adults

: $75.

Children (ages 12 & younger)

: $55.
Hours of Operation
Monday :

9:00am - 5:00pm

Tuesday :

9:00am - 5:00pm

Wednesday :

9:00am - 5:00pm

Thursday :

9:00am - 5:00pm

Friday :

9:00am - 5:00pm

Saturday :

9:00am - 5:00pm

Sunday :

9:00am - 5:00pm
Brochures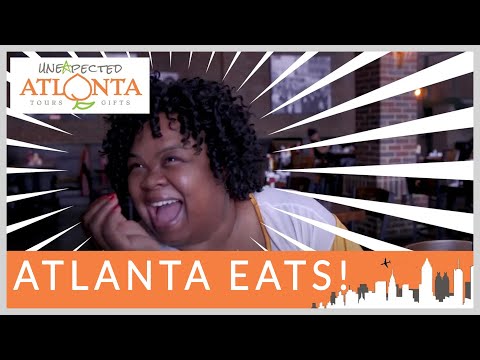 Atlanta Food Walks is Atlanta's favorite food tour company. We are Atlanta food experts, passionate storytellers, and home-grown Atlanta natives. That's not just marketing fluff: we have *literally* written the book on Atlanta's culinary history and we know all of the secret nooks and crannies in this city that you can only discover through exhaustive research and a whole lot of living and eating here.

Ever been curious what the Xs on a moonshine jug mean, or who the genius was that invented barbecue? On Atlanta Food Walks' Downtown Southern Food Tour, you'll learn about history and regional variations of Southern food, from colonization through the Civil Rights Movement, while you indulge your taste buds with some of the city's culinary gems. During this 3.5 hour walking tour, you'll visit seven different restaurants, where you'll try 15 different food and drink samples from soul food and contemporary barbecue to lowcountry cuisine and Creole-style candies, plus gourmet tea and specialty juices. 
Or, delve into the future of Southern cuisine while exploring Atlanta's deep past in this our Grant Park Past & Future Food Walk through one of Atlanta's oldest neighborhoods. Try 12 modern and Southern fusion tastings from 5 locally owned food stops on this 3 hour small group tour, including a jaunt through historic Oakland Cemetery. You'll try shrimp and grits with sweet and sour vinaigrette and Nashville hot chicken, while laughing and learning about how Atlanta has always been a city built on food.


Amenities

Facility Amenities

Free Parking
Parking on Site
Public Restrooms
Maps & Brochures Available

Near Interstate Highway

Payment Options

American Express
MasterCard
Discover
Visa

Special Tags

Civil Rights
Civil War Site
Eco-Friendly

Suitable for Ages

Adults (18+)
Adults (21+)
Seniors (55+)
Teens (13-18)

Group Amenities

General Information