Conyers Cherry Blossom Festival
Event Date
Saturday, March 27, 2021
10:00am - 5:00pm
Schedule
Dates & times for March 2021
Saturday, March 27, 2021
10:00am - 5:00pm
Sunday, March 28, 2021
10:00am - 5:00pm
Venue
Georgia International Horse Park
1996 Centennial Olympic Parkway
Rates
Admission is free with paid daily parking fee

: $0.00

Daily parking pass

: $5.00

Weekend parking pass

: $8.00

Tour buses (daily pass)

: $8.00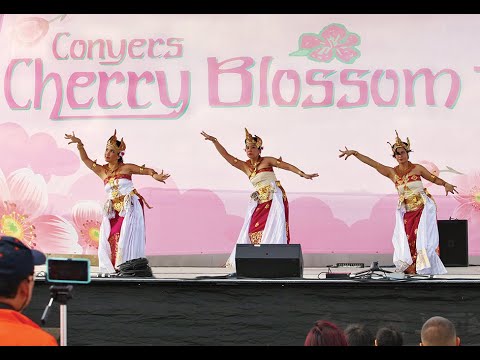 We are excited invite you to our Spring Celebration, the Conyers Cherry Blossom Festival! Shop among hundreds of unique art and craft exhibitors, eat your way through the multiple food courts, enjoy cultural performances, listen to live music, and play in the children's area.
The Cherry Blossom Festival originated as a way to encourage cultural understanding and friendship through international music, dance, games, food and crafts. The cherry blossom is a symbol of short-lived beauty in Japan, and the City of Conyers embraces this tradition as well. The blooming of the cherry trees offers a time to reflect upon our lives. Like the blooming of the trees, life is short, so you have to appreciate and embrace it.
The Conyers Cherry Blossom Festival has received many awards over the years for Best Event in the Southeast by the Southeast Festival and Events Association. It has also been selected over the years as a Top 20 Event in the Southeast by the Southeast Tourism Society.
Festival Hours:
Saturday and Sunday
10:00AM-5:00PM
Fees:
Admission is Free with $5 daily parking
Weekend parking passes are available for $8
Tour Buses: $8 daily fee
No Pets Please!
FESTIVAL HIGHLIGHTS
Spend the weekend at the Conyers Cherry Blossom Festival enjoying the great shopping, yummy food, children's activities and many other activities throughout the festival!
Hundreds of unique art and craft exhibitors offer shoppers the opportunity to find the perfect gift, home accessory, clothing, jewelry and other items that are one of a kind.
A large interactive Children's Area keeps kids entertained for hours!
Join the festivities by being a part of the Pink Out! Wear you best pink outfit, decorate your stroller or wagon, and join us in this Spring celebration! Secret judges will be roaming the festival looking for those that stand out. If you get "Pinked" by one of our judges, you've won a festival prize.
Learn about a variety of cultures through song and dance at one of the many cultural performances throughout the event on Stage 1.
Enjoy live music and dance performances on both stages.
Tempt your taste buds at one of the many food courts throughout the event. Enjoy food from around the world with Greek, Thai, Italian, Japanese and other global cuisines.
Win Blossom Bucks! Stop by the Information Booth and select a shopping bag. Be sure to look closely inside your bag to see if you are the lucky winner of Blossom Bucks, festival money you can spend at one of the art and craft booths (while supplies last).
We look forward to seeing you soon!

Amenities

Facility Amenities

Parking off Site
Parking on Site
Concessions
Public Restrooms
Restaurant on Site

Near Interstate Highway

Suitable for Ages

Group Amenities

General Information

Family-Friendly
Free Admission