Location
443 McCracken St.
Hours of Operation
Monday :

11:00am - 4:00pm

Tuesday :

11:00am - 4:00pm

Thursday :

11:00am - 4:00pm

Friday :

11:00am - 4:00pm

Saturday :

11:00am - 4:00pm

Sunday :

11:00am - 4:00pm
Related Documents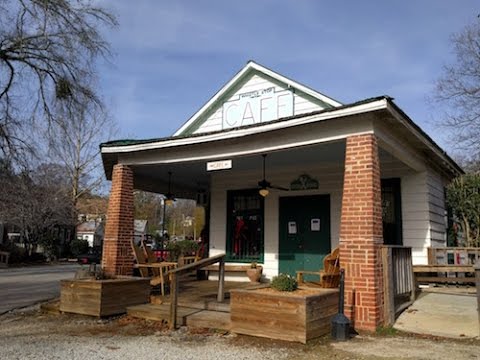 As important to the southern table as sweet tea, the fried green tomatoes at the Whistle Stop Cafe are equally important! Just when you think you've tasted southern food, take a drive over to Juliette, Georgia and sink your teeth into the most delicious, southern staples around! Their perfectly seasoned sides pair well with the traditional southern meats. It's like having a seat at grandma's table.
Juliette was a bustling railroad community during the early 1900s. Over time, the railroad industry declined, and Juliette was nearly forgotten until 1991 when movie producers for the film "Fried Green Tomatoes" discovered Juliette and reconstructed the existing buildings into the fictional community of Whistle Stop.
Today, Juliette is a vibrant community where guests can step onto the movie set and have a plate of fried green tomatoes at the Whistle Stop Café right where Idgie sat in the movie. After enjoying a delicious meal, guests can stroll through the scenic community and browse for unique gifts or collectibles in the shops along McCracken Street, visit Buddy's arm, Ruth and Idgie's graves, or the old Juliette Grist Mill built in 1927, one the world's largest water-powered grist mills.
Located one hour south of Atlanta and 20 minutes north of Macon, Juliette is an ideal trip for the day or evening. Juliette is located nine miles east of Interstate 75 off of exit 186.
Amenities

Facility Amenities

Free Parking
Parking on Site
Public Restrooms
Restaurant on Site

Near Interstate Highway

Special Tags

Suitable for Ages

Group Amenities

General Information

Family-Friendly
Open Year 'Round

Designations

100 Plates that Locals Loved in 2015
100 Plates that Locals Love in 2019

Average Entrée Price

Meals Served

Cuisine Served