"The Men Won't Tell Us Anything." Women of Georgia Folk Pottery (Born 1890 - 1940s)
Event Date
Saturday, July 24, 2021
10:00am - 5:00pm
Schedule
Dates & times for July 2021
Saturday, July 24, 2021
10:00am - 5:00pm
Sunday, July 25, 2021
10:00am - 5:00pm
Monday, July 26, 2021
10:00am - 5:00pm
Tuesday, July 27, 2021
10:00am - 5:00pm
Wednesday, July 28, 2021
10:00am - 5:00pm
Thursday, July 29, 2021
10:00am - 5:00pm
Friday, July 30, 2021
10:00am - 5:00pm
Saturday, July 31, 2021
10:00am - 5:00pm
Venue
Folk Pottery Museum of Northeast Georgia
283 GA Hwy. 255 N.
Sautee Nacoochee
GA
30571-4011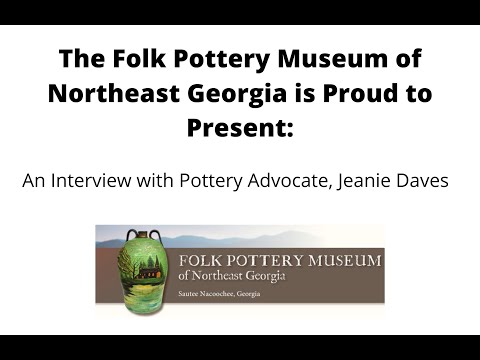 "The Men Won't Tell Us Anything": Women of Georgia Folk Pottery (Born 1890 – 1940s) is a look at how women in Folk Pottery moved from decorating pieces of pottery to throwing their own jugs, chickens and churns.
The featured exhibit, which opened in January 2021 and runs into September 2021, highlights the work of Arie Meaders, Grace Nell Hewell, Lin Craven among others. 
This installation is part of a series that will focus on the evolution of women in folk pottery and tell their stories about family, life and folk pottery.
An interview with pottery advocate Jeanie Daves of Clarkesville is available on the Folk Pottery Museum website, www.folkpotterymuseum.com. In the interview, Jeanie shares her experiences with Folk Potters and pottery with museum director Anna Calliham. (https://youtu.be/oa05H59dz7A)
The Folk Pottery Museum of Northeast Georgia is located at 283 Georgia Highway 255 North, Sautee Nacoochee, GA 30571, ¼ mile north of the intersection of Georgia Highway 17, and four miles northeast of Alpine Helen. It is open Monday-Saturday, 10 a.m. to 5 p.m.; Sunday 1-5 p.m. Admission is $5 adults, $4 seniors, $3 students, $2 children. Admission to the museum is free to teachers and active military personnel with ID, and to White County residents and Sautee Nacoochee Community Association members. For more information visit www.folkpotterymuseum.com or call 706-878-3300.
The Folk Pottery Museum of Northeast Georgia is a property of the Sautee Nacoochee Community Association, a non-profit 501(c)3 organization. Events at the Folk Pottery Museum of Northeast Georgia are supported, in part, by the Swanson Family Foundation. To learn more, visit www.snca.org.
Amenities

Discounts

Facility Amenities

Free Parking
Parking on Site
Public Restrooms

Payment Options

American Express
MasterCard
Discover
Visa

Suitable for Ages

General Information

Family-Friendly
Accessible