Savannah Riverboat Cruises
Rates
Gospel Adult Cruise

: $51.95

Moon light Child (except Saturday & Holiday-$26.95

: $24.95

Moon light Adult (except Saturday & Holiday-$36.95

: $34.95

Adult Luncheon Cruise

: $51.95

Child Luncheon Cruise

: $33.95

Narrated Harbor Cruise Adult

: $24.95

Narrated Harbor Cruise Child

: $15.95

Dinner Cruise Adult (except Saturday Adults $67.95)

: $61.95

Dinner Cruise Child (except Saturday Child $39.95)

: $35.95

Sunset Cruise Adult (except Saturday & Holidays $36.95)

: $35.95

Sunset Cruise Child (except Saturday & Holidays $26.95

: $24.95

Adult Sunday Brunch (except Saturday & Holidays $36.95)

: $34.95

Child Sunday Brunch (except Saturday & Holidays $26.95)

: $24.95

Gospel Child Cruise

: $30.95
Hours of Operation
Monday :

9:00am - 9:00pm

Tuesday :

9:00am - 9:00pm

Wednesday :

9:00am - 9:00pm

Thursday :

9:00am - 9:00pm

Friday :

9:00am - 9:00pm

Saturday :

9:00am - 9:00pm

Sunday :

9:00am - 9:00pm
Brochures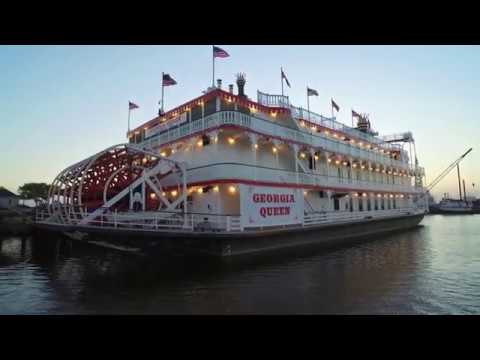 Stepping on a paddle-wheel riverboat is like stepping back in time to an age where life moved more sedately, and style and elegance were priorities. Take a break from the everyday and indulge yourself with a riverboat cruise.
Both the 1000-passenger NEW Georgia Queen and 600-passenger Savannah River Queen are climate-controlled, so you can step inside from those humid Savannah days to cool off or head out onto the open-air third deck for sights along the river. Choose the perfect cruise for your getaway: Narrated Harbor Sightseeing, Dinner Entertainment, Narrated Harbor Luncheon, Sunday Brunch, Monday Gospel Dinner, Moonlight Party Cruise or a Sunset Cruise. 
Have a group of 25 or more? We offer discounted rates for groups. Contact our group sales department for more details.
Be sure to ask about our money saving combo packages! 
All of our boats operate under United States Coast Guard regulations and conform to rigid requirements for passenger safety.
Amenities

Discounts

Near Interstate Highway

Payment Options

American Express
MasterCard
Discover
Visa

Suitable for Ages

Group Amenities

Group Rates Available
Group-Friendly

General Information

Family-Friendly
Accessible
Partially Accessible
Open Year 'Round

Facility Amenities

Concessions
Gift Shop
Meeting Facilities
Party Facilities
Restaurant on Site
Maps & Brochures Available
Dance Floor
Live Music