Location
212 E. Broughton St.
Hours of Operation
Monday :

11:00am - 11:00pm

Tuesday :

11:00am - 11:00pm

Wednesday :

11:00am - 11:00pm

Thursday :

11:00am - 11:00pm

Friday :

11:00am - 12:00am

Saturday :

11:00am - 12:00am

Sunday :

11:00am - 11:00pm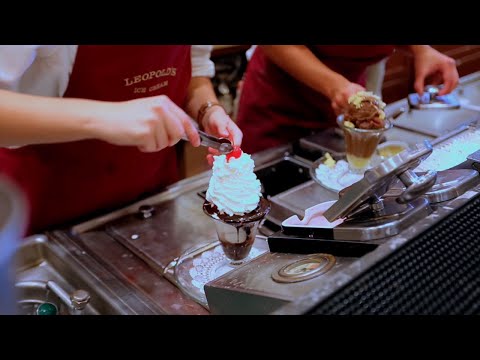 No trip to Savannah is complete without a visit to Leopold's Ice Cream! Named One of the Top 10 Ice Cream Parlors in the World, Leopold's is a "Must Do." You'll love our retro ice cream parlor, complete with old-fashioned soda fountain and friendly soda jerks. You'll also experience a little piece of Hollywood in Savannah as you peruse Stratton Leopold's collection of film posters and props from films he has worked on over his 45 plus years in the movie industry!

Leopold's Ice Cream was founded in 1919 by three brothers from Greece. They learned the art of candy and dessert from an uncle who had already settled in America. The brothers perfected their secret formulas and created the now world-famous Leopold's VeriBest™ ice cream.

Our ice cream is made in historic, Downtown Savannah, one batch at a time, using family recipes handed down from the Leopold brothers. With our full soda fountain menu and more than 28 flavors available at any given time, we've got something just for you!
Amenities

Discounts

Facility Amenities

Free Parking
Restaurant on Site
Self-guided Tours
Outdoor Dining

Near Interstate Highway

Payment Options

Special Tags

Suitable for Ages

Adults (18+)
Adults (21+)
All Ages
Seniors (55+)
Teens (13-18)
Toddlers (up to 5)

General Information

Family-Friendly
Accessible
Open Year 'Round
Pet-Friendly
Indoor Location
Outdoor Location

Designations

100 Plates that Locals Loved in 2015

Average Entrée Price

Meals Served

Cuisine Served

American
Ice Cream / Yogurt
Sandwiches
Soup / Salads