Walkin' Dead Tours & Events Haralson
Location
10 Line Creek Rd.
Rates
Classic Tour

: $30.00

Walker Encounter Tour

: $40.00

Walker For A Day

: $80.00

Cosplay Add-On

: $20.00
Hours of Operation
Monday :

10:00am - 5:00pm

Tuesday :

10:00am - 5:00pm

Wednesday :

10:00am - 5:00pm

Thursday :

10:00am - 5:00pm

Friday :

10:00am - 5:00pm

Saturday :

10:00am - 5:00pm

Sunday :

10:00am - 5:00pm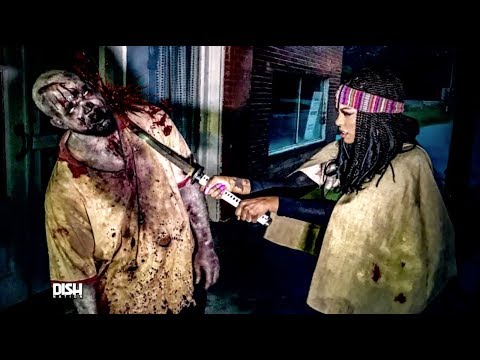 Welcome to Haralson, Georgia! Located just 5 miles south of Senoia (better know as 'Woodbury' and 'Alexandria') and made famous by the popular television show The Walking Dead. We offer a walking tour that is unique from other tours in the area. On our tour, you will walk the entire former set locations and enter the actual buildings where exciting sequences were shot featuring Rick, Daryl, Merle, The Governor, and many more of your favorite characters.

We offer three options for your tour experience. Our Classic tour starts inside our humongous gift shop where you will be equipped with your favorite The Walking Dead character's weapon. If you choose our Cosplay tour, you will also be fitted with appropriate costuming for your tour. When you are ready for the most authentic experience, the Walker Encounter Tour adds a few thrilling "Special Guests" to the mix. Plus, we offer the chance for you to be a Walker-For-A-Day, where you can be professionally made up as a Walker and participate in our Walker Encounter Tour performance! Whichever tour you choose your guide will take you to such locales as the building where Rick met with the Governor, Merle's ambush site, and the spot where Merle died and Daryl cried they will entertain you with lots of behind-the-scenes secrets. Also, you will be able to pose with your weapons for a photo to recreate your favorite scene.

Brace yourself! There will be a few surprises along the way. The only way to figure them out is to join this in-depth Walking Dead tour! There is no finer tour or event for the true super fan! Tours are offered dalily at 10 a.m., 1 p.m and 3:30 p.m.

Amenities

Discounts

Facility Amenities

Free Parking
Parking on Site
Gift Shop
Public Restrooms
Maps & Brochures Available

Near Interstate Highway

Payment Options

Special Tags

Suitable for Ages

Group Amenities

Group Rates Available
Group-Friendly

General Information

Family-Friendly
Partially Accessible
Outdoor Location

Rentals