2022 St. Marys Seafood Festival & Cumberland Island National Seashore 50th Anniversary Kick-Off
Event Date
Saturday, October 1, 2022
All Day
Schedule
Dates & times for October 2022
Saturday, October 1, 2022
All Day
Venue
St. Marys Waterfront
100 St. Marys Street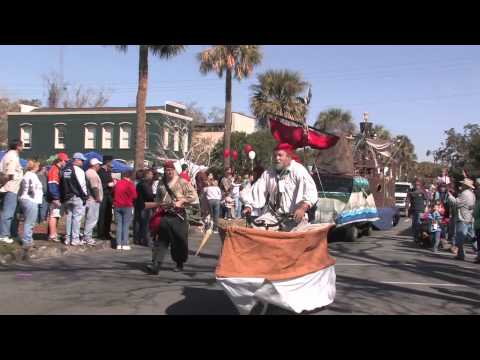 On Saturday, October 1st, the St. Marys Seafood
Festival & the Cumberland Island National Seashore 50th Anniversary Commemoration
Kick-Off event will bring a day of family fun to the Georgia coast. The festival
includes a 5K and 10K run, a themed 10:00 a.m. parade featuring floats, fire
trucks, tractors, and golf carts, and, of course, seafood concessionaires.
You'll also find entertainment, demonstrations, arts & crafts vendors, and
more. Cumberland Island National Seashore commemorates 50 years in October and
will be kicking off the milestone with a presentation at the amphitheater and
demonstrations and displays at the park and on the lawn at their visitor center.

A favorite part of the day will be the food! The restaurants will be offering
seafood festival specials and there will be food trucks and vendors with
sensational seafood fare. The Kiwanis Club will have a booth with several
seafood choices, too.
The festival is on the riverfront in St. Marys' historic district and offers
visitors a relaxing small-town feel.
*All times and activities are subject to change. The
festival schedule is tentatively as follows:
7:00 a.m. ~ 5K / 10K Run Start
9:00 a.m. – 6:00 p.m. ~ Vendors
9:00 a.m. - 5:00 p.m. ~ NPS Colonial Encampment at St. Marys
Waterfront Park
9:00 a.m. - 5:00 p.m. ~ Activities & Demonstrations on
the NPS Visitor Center Lawn
10:00 a.m. ~ Parade Begins with Grand Marshal NPS
Superintendent Gary Ingram
11:15 a.m. - 11:45 a.m. ~ Piper Band at St. Marys Waterfront
Park for NPS Program Welcome
11:45 a.m. - 12:30 p.m. ~ NPS Program on the 50th
Anniversary Commemoration of Cumberland Island National Seashore with Colors
and national anthem by CCHS NJROTC & Volume One Choir, Welcome from
Superintendent Gary Ingram, and Presentations by Dignitaries
12:30 p.m. ~ Geechee Gullah Shouters at the Amphitheatre
1:30 p.m. - 4:00 p.m. ~ Musket Firing/ Black Powder
Demonstrations at the St. Marys Waterfront Park
11:15 a.m. - 2:00 p.m. ~ Various Community Entertainment
If you're planning on attending, advance registration is
encouraged for the 5K/10K runs and is mandatory for vendors and parade
entrants.
The St. Marys Seafood Festival is organized by the Kiwanis
Club of St. Marys and has formerly been known as the St. Marys Rock Shrimp
Festival. The festival is supported by the City of St. Marys and area sponsors.
Festival proceeds are spent locally to fund Kiwanis youth programs in Camden
County. For more information, visit smkiwanis.com. For
information on restaurants, lodging, and other local information explore www.visitstmarys.com.
Amenities

Facility Amenities

Free Parking
Parking on Site
Concessions
Public Restrooms
Restaurant on Site

Near Interstate Highway

Suitable for Ages

Group Amenities

General Information

Family-Friendly
Free Admission
Partially Accessible
Pet-Friendly