Historic Banning Mills Retreat and Conservation Center
Location
205 Horseshoe Dam Rd.
Hours of Operation
Monday :

All Day

Tuesday :

All Day

Wednesday :

All Day

Thursday :

All Day

Friday :

All Day

Saturday :

All Day

Sunday :

All Day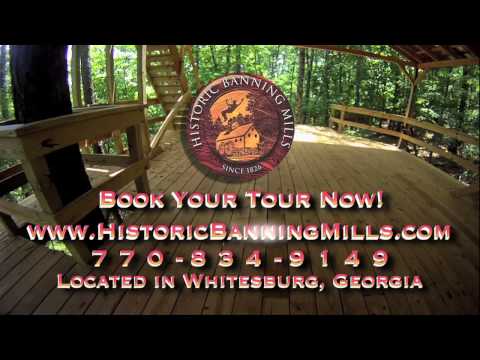 This beautiful country inn and retreat center is located in the historic Snake Creek Gorge and ghost town of Banning Mills. 45 minutes from Atlanta, we offer the chance to experience the world's largest zipline canopy tour and tallest free standing climbing wall among other adventure treks. We have two Guinness World Records!
With 55 rooms on the Inn side, you are sure to find a room to suit your needs. We offer unique lodging, gourmet dining, and unmatched adventure! Room Rates include a full breakfast for 2 guests (excluding family cabins). A $15 extra guest surcharge will be added for each additional guest (5 and up) that includes breakfast.
Tree Houses are our most popular lodging option. A cozy rendition of the Swiss Family Robinson's rooms but with all the modern conveniences, our Tree House rooms have a king bed, gas log fireplace, jetted tub for two, private bathroom with shower and covered back deck overlooking the Gorge. Some of our Tree Houses are double deckers that can accommodate a family of 4. 

Pine Log Cabins are free standing with a front and back deck. Most overlook the creek and gorge. Cabin rooms have an open king bedroom downstairs with a double jetted tub. There is a gas log fireplace (operational in cold weather months). There is a small sitting area on the main level with a table and 4 chairs. There is an upstairs open loft with 2 twin beds, 1 private bathroom, Mini-refrigerator, and microwave. There is satellite TV. This room DOES NOT have a full kitchen! Great for up to 4 guests.
Romantic Creekside Overlook Rooms have a BIG Aspen Log King bed, a sitting area with a chair and ottoman, desk, private bathroom, in-room double jetted tub, gas log fireplace (operational in cold weather months), and decks overlooking the creek and gorge. Enjoy an in-room mini-refrigerator, Keurig coffee machine, and satellite TV. Most rooms have WiFi. Great for 2 guests.
Lodge Economy Rooms are our smallest and most economical. They have either two extra long and extra wide twin beds or they can be combined for a nice King bed. All have private bathrooms, tv, and access to a large outside deck overlooking the gorge. Great for 1 to 2 guests.
Family Cabins
Designed as a natural escape, our rustic cabins are more remote and do not provide cable or satellite TV, however, there is a TV and DVD player provided. Also, due to the cabins' remote location, cell phone reception and/or internet availability CANNOT be guaranteed (all emergency services will still work). This allows your family to spend quality time together, unplugged from modern distractions, to experience nature and adventure together! Family Cabins do not include breakfast but can be added onto the reservation. 
Amenities include:

Over 300 acres of nature trails
Seasonal pool (open Memorial Day weekend through Labor Day weekend weather dependent)
Two 18 hole putt putt courses
Horseshoe pits
Billiards room
Gift shop
Sand volleyball Court
Basketball court
Catch/release lake
Selection of movies.
Please see the front desk to check out equipment and movies.
Take a moment to visit our historical interpretive center to find out about the unique history of Banning Mills that was almost forgotten! From romance to adventure to history and natural beauty, Historic Banning Mills is a very unique and special place to visit.
Amenities

Discounts

Facility Amenities

Free Parking
Parking on Site
Complimentary Breakfast
Meeting Space Available
Outdoor Pool
Spa Nearby

Near Interstate Highway

Payment Options

Group Amenities

General Information

Internet Connectivity

Room Amenities

Hair Dryer
In-Room Coffee Maker
Refrigerator

Room Type

Average Nightly Rate

$101-$150
$151-$200
$201+