Banning Mills Screaming Eagle Eco Zip Line Canopy Tours
Location
205 Horseshoe Dam Rd.
Rates
Level 1: Forest or Woodland tour (1.5 to 2 hours)

: $59.00

Level 2: Pattern tour (2 to 3 hours)

: $89.00

Level 3: Pattern Plus tour (3 to 3.5 hours)

: $109.00

Level 4: Extreme Canopy tour (3.5 to 5 hours)

: $169.00

All Day Rush

: $279.00

Crazy Squirrel Tier 1

: $29.95

Crazy Squirrel Tier 2

: $64.95

Two Springs Tour

: $99.00

Two Springs All Day

: $199.00

Two Day Rush

: $519.00
Hours of Operation
Monday :

9:00am - 10:00pm

Tuesday :

9:00am - 10:00pm

Wednesday :

9:00am - 10:00pm

Thursday :

9:00am - 10:00pm

Friday :

9:00am - 10:00pm

Saturday :

9:00am - 10:00pm

Sunday :

9:00am - 10:00pm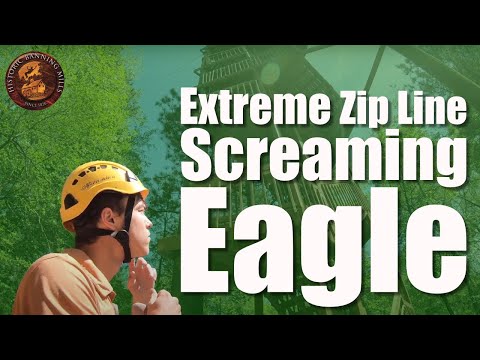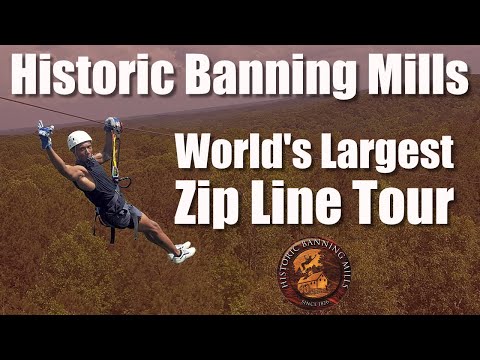 Experience the largest, continuous zip line canopy tour in the world with a Guinness World Record for World's Longest Zip Line Canopy Tour! Located 45 minutes from Atlanta's Hartsfield-Jackson airport, Screaming Eagle zip line canopy tour features more than 10 miles of course in the trees. We pride ourselves in providing a thrilling and supremely safe experience for all our guests. Our guides will provide thorough instruction and will make you feel confident, giving you space to focus on the beautiful sights and thrilling heights! All Tours include FREE pictures!
How it works
We have 4 levels of zip lines, each one increasing in length, speed, and height. Each level builds on the one before. While you are out on tour, you can upgrade to the next tour level if time allows, and you meet weight and age requirements. Once you get started, you won't want the fun to end!
Depending on the level of zip line tour, you can add on the Power Free-Fall, Amazing Flight of the Falcon , Ridge Runner, or Terminator Corner! Descriptions of add-on options can be found after Tour information.
LEVEL 1: FOREST OR WOODLAND TOUR
It all starts here! Glide among old growth trees in a deep hardwood forest and enjoy 9 zip lines, one or two Sky bridges and a cool tower. The Forest tour and Woodland tour are designed with families in mind and has a lower weight limit of 50 lbs. so some of the smaller ones in the family can participate.
LEVEL 2: THE FLIGHT PATTERN ZIP LINE CANOPY TOUR

Includes Level 1 before moving on to Level 2 Get ready for MORE big thrills and continue to- Level 2 – The Flight Pattern Zip Line Tour! You will start to get a bit more extreme on this course, flying over 900 and 1,000 foot-long ziplines as you go down a line 200 feet high above Snake Creek Gorge. This tour allows you to get up close to Mother Nature with another 9 sky bridge walks, ranging up to 80 feet in height. You will experience a total of 12 zip lines and up to 10 sky bridges, crossing the Lost Gorge two times.
LEVEL 3: THE FLIGHT PATTERN PLUS ZIP LINE CANOPY TOUR
Includes Levels 1 and 2 before moving on to Level 3
Are you ready for High Speeds? This tour includes the double Big Daddy Zip Line! At 1500 feet long, you can soar at speeds up to 55 to 60 mph. End the tour at another high speed, 900-foot-long Swoop line that takes you along the beautiful Snake Creek.
LEVEL 4: THE EXTREME ZIP LINE CANOPY TOUR
Includes Levels 1, 2, and 3 before moving on to Level 4
Looking for an EXTREME Adventure? This is the tour for YOU! After taking the ride down Big Daddy, traverse above the beautiful Snake Creek Gorge on several unique suspension bridges! Take the ultimate trek on Sky Trek, a 600-foot-long monster suspension bridge over 100 feet above the creek! Ride the 1000-foot-long Predator zip line back across the creek and begin your climb up our 100-foot-tall tower to soar down Screaming Eagle! Screaming Eagle is 2,500 feet long and goes 70-75 mph! This tour is a true aerial expedition!
THE ALL DAY RUSH (ADR) TOUR
Includes as much of Levels 1 – 4 that can be fit into one day, Ridge Runner Tour, Flight of the Falcon, The Terminator Aerial Adventure Challenge Park, 2 jumps off our Power Free Fall AND Lunch!
The All Day Rush (ADR) Zip Line Tour at Historic Banning Mills is eight hours of extreme fun without having to do any of the course twice! We also offer a
2 Day Rush Tour
!
TWO SPRINGS TOUR

Experience 18 zip lines ranging from 180′ long up to the 1800′ 'Screamer' and 8 cable/traverse bridges that zigzag across the beautiful Two Springs Lake. Enjoy a gorgeous view of the lake and giant oak trees on these faster, more advanced zip lines anywhere from 20′-150′ high. This course will also include Level One Beginning Forest Tour. We also offer a
Two Springs All Day Tour
that Includes Level 1, Two Springs Tour, Power Free Fall, Flight of the Falcon, and Lunch.
ZIP LINE TOUR ADD-ON OPTIONS
These thrilling options can be added onto eligible Zip Line Tours. When booking, add your preferred tour to your cart and you will then be prompted with an option to add on Ridge Runner or Flight of the Falcon. Terminator Corner must be booked over the phone.
Ridge Runner
is the perfect add on for those looking to squeeze a few more amazing zip lines out of their adventure. Take on our Screaming Eagle Ridge Runner zip line, one of our three half-mile long zip lines. PLUS 3 more long and scenic zip lines and canopy walks that take you over and around the old paper mill located deep in the Snake Creek Gorge!
Flight of the Falcon
lets you fly like superman for 3,400 ft, parallel to Snake Creek Gorge. Then traverse another five zip lines and two sky bridges. You'll pass over and under many other areas of the zip line and aerial adventure course, giving you a bird's eye view of the surrounding area!
Power Free Fall lets you jump from a height of 100 ft! The Power Free Fall is NOT a bungee jump, but a controlled fall that is very safe.

Come to Historic Banning Mills for amazing adventure!
Amenities

Facility Amenities

Free Parking
Parking on Site
Gift Shop
Lodging On Site
Public Restrooms
Maps & Brochures Available
Meeting Space Available

Payment Options

Special Tags

Suitable for Ages

Group Amenities

Group Rates Available
Group-Friendly

General Information